FirmoLin is een internationaal georiënteerd technologisch bedrijf met haar wortels in de houtindustrie en met een eigen en uniek FirmoLin hygrothermische houtmodificatie techniek. FirmoLin is in Nederland gevestigd en heeft drie gespecialiseerde bedrijfsactiviteiten,
Sales & Services - biedt haar lokale klanten thermische modificatie behandelingen in loondienst aan met een jaarlijkse productievolume van 10.000 m3.
Research & Development - verricht onderzoek naar en doet ontwikkelingen op houtmodificatie processen, materiaal eigenschappen and kwaliteitscontrole.
Systems - biedt een in een skid gebouwde, volledig gelicenseerde FirmoLin hygrothermische houtmodificatie installatie aan voor de wereldwijde houtverwerkende industrie.
Als u geïnteresseerd bent in ge-FirmoLiniseerde houtproducten, kunt u contact opnemen met Sales & Services voor een verkoper of dealer bij u in de buurt. FirmoLin verkoopt zelf geen hout of houtproducten.
De hoofdvestiging van FirmoLin is gevestigd in Ysselsteyn (Lb), aan de Agrobaan 4 A.
Hygrothermische houtmodificatie
Thermische modificatie wordt gedaan in ruimte waarin hout tot een hoge temperatuur wordt verhit, zonder dat hierbij zuurstof aanwezig is. Oven gedroogde condities komen voor bij verhitting onder lage druk (Thermolyse) en plegen een flinke aanslag op het hout, met een groot risico op (micro) scheuren en vervorming. Vochtige omstandigheden, zoals deze voorkomen bij processen met hoge druk verzadigde stoom (Hydrothermisch proces) zijn eveneens zwaar voor het hout met het risico op permanente verzwakking en vervorming.
De unieke en innovatieve FirmoLin technologie (Hygrothermolytic process) handhaaft een middelhoge stoomdruk (4 – 7 bar), aangepast aan de toegepaste stoomtemperatuur (160-180°C), waardoor het houtvocht in evenwicht blijft met de stoomcondities. De stoomdruk regelt de thermische modificatiesnelheid. De stoomtemperatuur bepaalt de vochtuitwisseling tussen hout en stoom op hoge temperatuur en stuurt het karakter van de houtmodificatiereacties tussen hydrolyse, uitdroging en verknoping.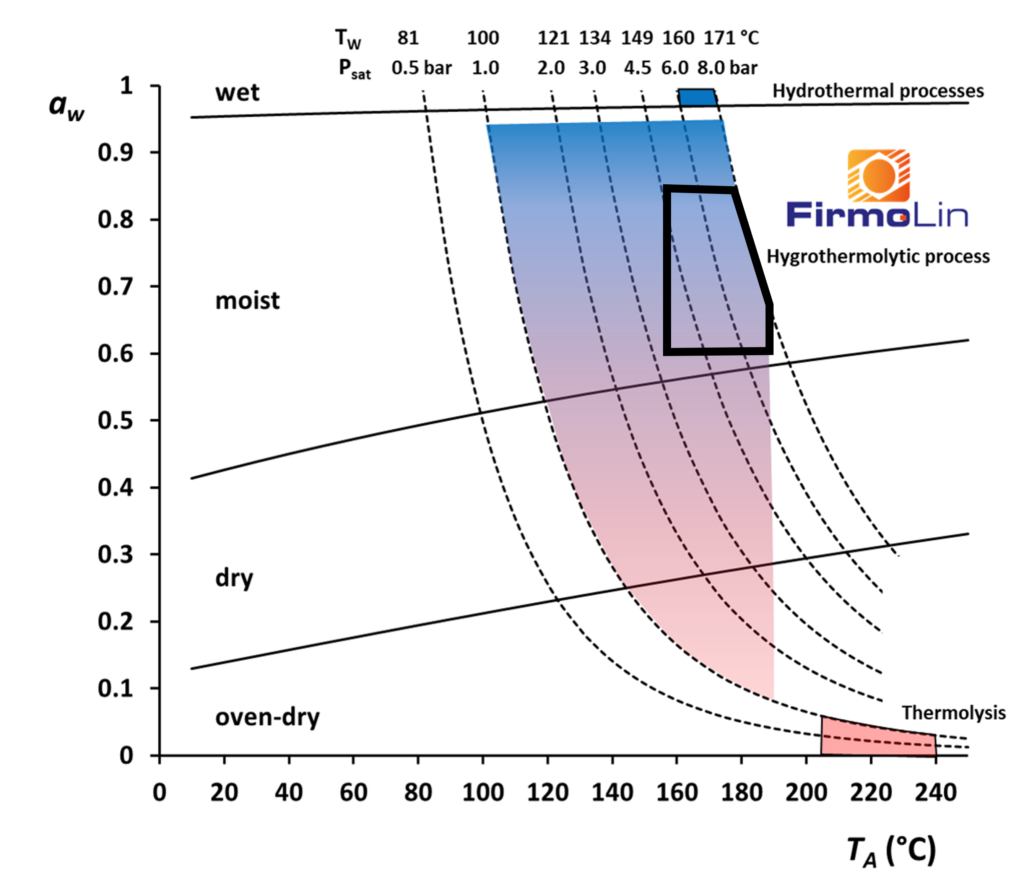 (W. Willems & M. Altgen (2020) Hygrothermolytic wood modification. process description and treatment level characterisation, Wood Material Science & Engineering, 15:4, 213-222)